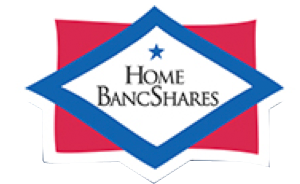 Home Bancshares Inc (Conway, AR) Investor Relations Material
Home Bancshares, Inc. operates the bank holding company for Centennial Bank. The Bank provides commercial and retail banking, and related financial services to businesses, real estate developers and investors, individuals, and municipalities; construction loans to real estate developers; consumer loans for automobile purchases and debt consolidation; residential real estate financing in conjunction with the sale of new homes by builders; leasing of space in office buildings to medical professionals including physicians' offices, dentists' offices, physical therapists' offices/clinics, chiropractic offices/clinics and optometrists' offices/clinics; trust services through which the Bank holds title to real estate or personal property purchased or owned by its customers for their benefit or holding other assets for them. The company is based in Conway, Arkansas.
Latest company events
More about Home Bancshares Inc (Conway, AR)
Country
United States of America
About the company
Dig deeper into the Home Bancshares Inc (Conway, AR) fundamentals on Quartr.
Skip straight to the Q&A session
Receive notifications about new events
Connect the financial calender on your phone
Figure out why the stock is up or down
Read the transcripts or scroll the deck
Access earnings or press releases